While working on HOLLY DOWN IN HEAVEN by Kara Lee Corthron, we've asked the members of the cast and creative team to share a bit about themselves with the Forum Theatre community. The play takes place in a basement where teenaged Holly surrounds herself with a vast collection of dolls, so in keeping with the theme, some of these questions have to do with the importance of collecting and the idea of separating oneself from the outside world.
Name: Parker Drown
Role in HOLLY DOWN IN HEAVEN: Yager
Hometown: Ellicott City, MD
Current town: Silver Spring, MD
What drew you to pursue your career in the arts?
My 7th grade reading teacher was also the High School art and drama teacher and she needed a little boy for a Christmas drama skit that the high school drama class was performing at a school assembly. She said it was either me or her 3 yr old grandson (I was the smallest kid in my class by far). I agreed to do it and ended up having a blast doing it. So I thought why stop, right?
Did you have a secret/separate world away from adults, siblings, and/or classmates while growing up? If so, what can you tell us about it?
I never had an imaginary world to escape to as a kid, but there was a tree in my front yard that whenever I needed to "run away" from home in a huff I would climb all the way to the top and sit there for hours and play in it. I could still see my house, but no one could see me when all of the leaves were still there.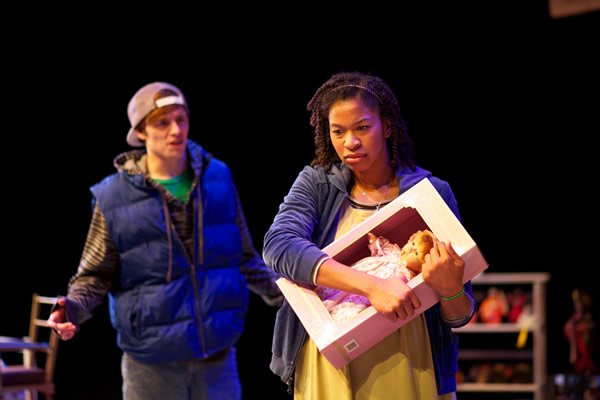 Do you/did you collect anything? If so, what?
I got really into the state quarters when they first came out and still have a few sets of all of those, but I was never a real big collector. I think that was just because I'm a little OCD about collections and want them to be big enough to matter but small enough to manage. With that said my most impressive collection that I ever had was an insect collection I had to make for 7th grade Biology. Now talk about OCD...I got a perfect 100 on mine because the display was perfectly spaced, perfectly labeled and altogether just perfectly impressive...if I do say so myself.
If you could choose three non-living items from your home in event of a natural disaster/apocalypse/derecho, what would you choose and why?
Knife, rope, and a big canteen of water...survival essentials. Obviously all contained in a very durable backpack.